Wade & Barbara Akins
Training Leaders to Make Disciples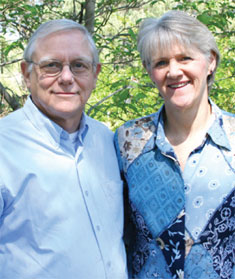 Ministry Vision Statement
We are committed to the ministry of "making disciples" as Jesus commanded us to do in the Great Commission.
Matthew 28:18-20
Ministry Mission Statement
We will focus on two areas of ministry:
To be used of God in evangelism: personal, small group and mass.
To "equip the saints to do the work of ministry" Ephesians 4:12.
By being involved in these two ministries we will be fulfilling the Great Commission and our Vision statement.
Testimony and update of ministry in Rwanda
Hope Family Rwanda
JUSTIN NKUNDABAGENZI: Director Founder
Wade and Barbara Akins, missionaries of Pioneer Missions Global, taught a Pioneer Evangelism Training Conference in Rwanda, May of 2010.
It is there that they met Justin Nkundabagenzi. At that time, he was struggling to begin a new church and had no members. At the completion of the training, Justin told Wade and Barbara that he was going to follow the Pioneer Evangelism strategy to start churches in houses.
He began that year finding his first person of peace, John Paul. In 2011 he baptized John Paul, his wife, and Pascal. Justin's focus is to evangelize and make disciples that make other disciples. Beginning with John Paul, Justin followed ties to family and friends, evangelizing with Good News studies in the homes of non-believers, multiplying churches in homes, and making disciples that make disciples.
Since 2010 his disciples have baptized 7,771 believers and started 367 house churches. The following is an update of his ministry for 2017.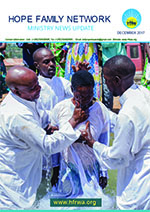 Click here for Hope Family Network's latest update
---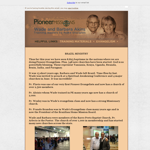 Click here for our latest update
Address
135 Greenbrier Rd
Eads, TN 38028
e-mails
[email protected] This email address is being protected from spambots. You need JavaScript enabled to view it.
[email protected] This email address is being protected from spambots. You need JavaScript enabled to view it.